Happy Sunday lovely readers. I know it has been a while since I have been here again. I promise I will try and make it a more regular activity.
Not a lot has been happening here. Emma has been visiting her cousins in Tea Gardens NSW for the past 4 days and was none too happy that she had to come home today. She is supposed to go to school tomorrow but they are having the swimming carnival and she cannot compete as she is not allowed to go in public pools. Too much of a risk of catching cooties. She is currently sitting at the kitchen table getting all her homework completed.
It has finally stopped raining so the weekend has been spent doing all the outside jobs. Luckily that does not involve me. The boys job not mine.
have been doing loads of scrapping but yet again not much to show. You can have a little sneak peek of the class that I will be teaching at Kaisercraft Robina next Saturday (11th) This is a double page layout and only costs $25.00 for class and full kit.
Here is a layout that I finally put together using Emma's creepy photos. I love hoe it turned out but can understand that it is not something that everyone would like.
I used my new silhouette cameo to cut out the old house, pretty cool eh! I was going to post another layout here but it was picked up for publication on Friday so you will be able to see it in an upcoming edition of Scrapbooking Memories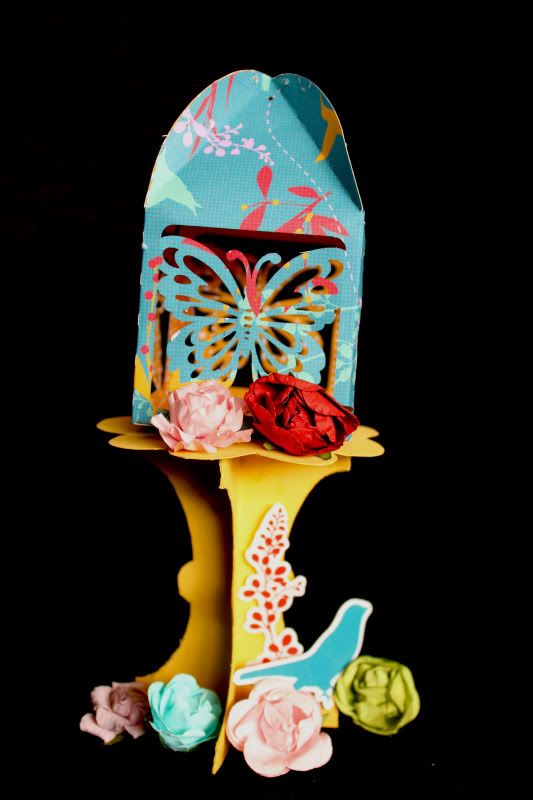 This was the little birdie cage that I made for the Kaisercraft blog. It is so cute IRL.
Anyway had better go and get the washing finished or the rug rats wont have any uniforms for tomorrow. Emma's skirts need to be taken up but I made a real mess of the first one so am taking the second one to the seamstress. So much easier that way.
Hope this finds you all happy and healthy
Leanne :-)